(Header photo courtesy of Christine Gardner)
Welcome to the Philipsburg St Maarten / St Martin Cruise Port!
Welcome to one of the most visited cruise ports in the Caribbean and the world! More importantly, one of the most popular. The St Maarten cruise port has won many accolades by cruise sites and magazines as a great location for excursions, shopping and excursions to Philipsburg.
All major cruiseliners in the world visit the St Maarten Cruise port, like Royal Caribbean Cruises, Carnival Cruises, Disney, MSC, Celebrity Cruises, Norwegian, Windstar and many more. Whereas most of these cruises leave from Florida, various do homeporting from St Maarten and allow for a combination of exploring the region and a hotel stay to visit St Maarten / St Martin. All ships dock in the AC Wathey Cruise Port in Philipsburg.
St Maarten Cruise Excursions 
One day cruise visits give plenty of opportunity to enjoy our unique key strengths like our famed culinary offer, excursions on land and sailing and water excursions. St Maarten / St Martin may be well known as a binational and vibrant destination, with 37 square miles it is also very compact. That makes virtually any of our activities on offer within your reach during a one day stop. Many have easy connections or pick-up services to the cruise port, and are catered to have you back on the ship on time. Contact your excursions provider how to reach your excursion easiest and where it starts.
Visit Port of Call Philipsburg
If you choose to remain close by the cruise port, there is still plenty to do! Many choose take a strawl to Philipsburg or take an activity close to this main town. Its famed shopping streets Front Street,  Backstreet and Old Street are the core of St Maartens  shopping haven. Jetties to Philipsburg leave from the Wathey pier to the beginning of the Boardwalk , Courthouse and Walter Plantz square.
St. Maarten Cruise Port Map
Whatever you decide to do on your Philipsburg cruise visit, see below a simple map explaining the area seen from the port.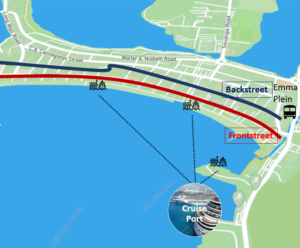 From the Cruise Port to Great Bay Beach
Cruise ships coming in already have a breathtaking view over Philipsburg's Great Bay Beach. Enjoy the closest beach to your cruise port(s). A popular way to spend the day on St Maarten when coming by cruise, is to spend a day at Great Bay Beach. St Maarten is the only country in the world with a beachside capital, and this beach stretches along its full length. Like Philipsburg itself, Great Bay Beach is only a five to ten minute walk from the cruise port. No other cruise port along your itinerary will provide a beach so close, so you might as well want to grasp this opportunity! Along the beach goes Philipsburg's boardwalk, making the beach easily walkable. The boardwalk is approximately a mile and a half long so within walking distance range for most. The boardwalk, as well as parallel running Front Street, is dotted with restaurants and things to do. Please see below clusters around the three cruise port water taxi / ferry pickups: 
Walking & Water Taxis / Ferries from the Cruise pier to Philipsburg
The St Maarten cruise terminal is uniquely located close to the Dutch Side capital,
Philipsburg.
You can walk from the port to the town center in 10 minutes along the main road outside the port gates.
You can also take a water taxi / ferry from the port to Philipsburg. These will bring you to either of these three moorings:
Water taxi / Ferry to Bobby's Marina
• The Philipsburg Marina marks the beginning of
Town
, as locals love to call Philipsburg informally.
•  Some of the best things to do when disembarking the water taxi / ferry at the Philipsburg Marina:
•  Go where the locals go, and have a bite at acclaimed Asian fusion restaurant "Aziana's" whilst watching the ships roll in in the harbor!
•  Learn about the true history of pirates in a multimedia presentation at the Rusty Parrot.
•  Learn about St Maarten history at the St Maarten museum. 
•  Take a diving tour with Dive St. Maarten to see St Maarten's underwater world!
•  Take a walk along the Philipsburg boardwalk that starts here, also home to the two other water taxi / ferry disembarkation points, or a famed St. Rose Beach Bar Mojito.
•  Go shopping along Front Street, take a coffee at Coffee Lounge with locally roasted beans, have a shot of Holland at Amasterdam,
•  The Philipsburg Marina is also the place to embark for island hopping to other islands.
Water taxi / ferry to Captain Hodge Pier / AC Wathey square
Water taxi / ferry to Walter Plantz Square pier
Walter Plantz' square

 offers a plethora of bars and restaurants for those looking to get off of Philipsburgs beaten track. From vegetarian specialties to Dutch bitterballen and haring, this square amidst the historical Downstreet area is there for everyone. Walter Plantz square marks the end of the Philipsburg boardwalk. 
Best things to on the square are
•  Make use of the scenic, typical St Maarten architectural styled houses for your best pictures of your holiday!
•  Make a splash in Great Bay Beach and use the showers to clean before going back to the boat!
•  Have a true Dutch bitterballen menu (or add a kroket or series of "vlammetjes" to it) at The Pier Restaurant to have an impression of Holland's most popular snacks.  
•  Take the Philipsburg Mural Tour of local artists, explaining St. Maarten history in the process!
•  Go on a lively and amazing race through Philipsburg by Tri-Sport.
Are you transfering to or from the Cruise Port to Princess Juliana Airport ( SXM )? Taxis available at the cruise port can take you there; the same applies when coming from the airport. Take into account a 20 to 30 minute travel time. Buses depart to and from the airport from Emmaplein, a ten minute walk from the port.
From the Cruise Port to Maho Beach
Many visitors like to see the spectacular airplane landings on Maho Beach, also known informally as "Airport Beach". You can do so by island tour (make sure this stop is included in the itinerary), by taxi or bus. Minivan Buses to maho leave from Emmaplein every ten to twenty minutes and take averagely 30 minutes to reach the beach. Emmaplein is a five to ten minutes walk from the cruise pier, at the start of Front Street. Ask the Bus driver when you reach Maho Beach. 
Coming in Sailing or by Yacht
If you are coming in by cruise ship, you are close by the Philipsburg area. If you are coming by sailing boat or yacht, you are prone to make landfall in the Simpson Bay or Marigot area. See our area description for more details!
St. Maarten Cruise Ship Schedule
With every itinerary, make sure you get back on the ship timely. Depending on business in the port, traffic can be a factor to keep an eye on. Please see this overview of arrival and departure times of cruise ships in the Philipsburg port of call.
Read our cruise blog about the latest developments on our islands, and our activities blog to see what things to do !
Click here to stay up to date about the latest cruise news!