(Header photo courtesy of Guavaberry)
St. Maarten/St. Martin is one of the unique islands of the Caribbean. From having two countries in one island, to the diversity in activities, eatery and landscape. As many has call it the island that does not sleep, there is always something to do.
Below you will find some fun facts of this already unique island!
FUN FACTS ST.MAARTEN / ST. MARTIN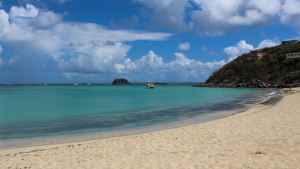 1. MOST BEACHES PER SQUARE MILE
St. Maarten holds the world record of beaches related to its compact surface. There are beaches for anyone's taste, from the urban to the quiet , from the world fame ones to the awarded , for the watersport lover or those looking for serenity. And those for dreamers of uninhabited islands there are opportunities as well; both with and without a bar.
2. MOST RESTAURANTS PER SQUARE MILE
St. Maarten / St. Martin is known as the culinary capital of the Caribbean. Little wonder as 100 cultures and two nations brought their herbs and recipes together.  See our dining department for what cuisine suits your preferences today, and let our local cooks and bartenders inspire you before and after your holiday to stretch your holiday feel!
3. MOST NATIONALITIES PER CAPITA
It is widely known that St. Maarten mixes Caribbean with French and Dutch cultures. However, an additional 100 Caribbean, American, European, Asian, Australian and (yes) Oceanian nationalities add to the unique population – and  flavors – of St. Maarten.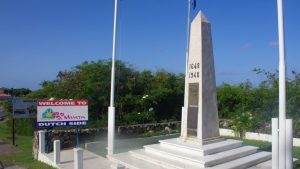 4. OLDEST OFFICIALLY OPEN BORDER IN THE WORLD
Since the treaty of Concordia in 1648, the Dutch and French side of the island have been open. Long before the European Union came into being, with a few exceptions peaceful coexistence between European nations existed for hundreds of yours on this paradisiacal island.
5. SMALLEST LANDMASS SHARED BY TWO NATIONS
Its unique binational island setting only has a few equivalents in the world, like Hispaniola (Haiti & Dominican Republic) and Cyprus. However, none as compact, let alone with so many cultures in the world!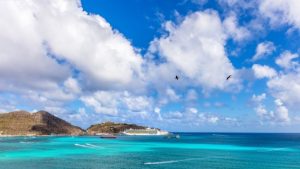 6. NO#1 CARIBBEAN CRUISE PORT
With the aforementioned uniqueness of  pristine beaches, cultures, cuisines, great hospitality and history, you will be less surprised that St. Maarten won the prestigious Cruise Critic many times over the past decade. However, as many cruise passengers linger in its Port of call Philipsburg for its reputation of shopping destination that contributed as well.
In addition, St. Maarten ranks top #3 in the Caribbean and top #10 in the world. For some cruise liners it forms a hub as a home porting destination. For both cruise passengers and home porters see our one day on St. Maarten itineraries how to make the best out of your stay!
7. A TRUE PIRATE ISLAND
Like any other Caribbean island, St. Maarten / St. Martin had its share of piracy and rhum production. It's most famed local rhums Guavaberry and Toppers have an amazing story to tell and form an attraction on itself to visit. Guavaberry even managed to become the official Pirates of the Caribbean Rhum at Disneyland Japan – cheers to that!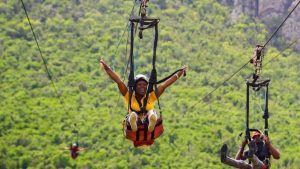 8. STEEPEST ZIPLINE IN THE WORLD
Since 2017, St. Maarten boasts a unique attraction for thrillseekers – or those simply looking for an amazing view of five Caribbean. Rainforest Adventure Park boasts the steepest zipline in the world, the Flying Dutchman. For those not afraid of heights, a never to be forgotten – especially not when the visit ends to culinary hotspot Emilio's on the property.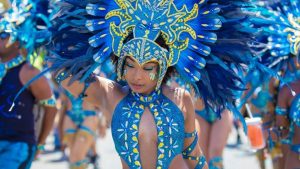 9. ONLY ISLAND WITH TWO CARNIVALS
The good thing of being binational is not just having double the cuisine, but also double the events! St. Maarten / St. Martin is the only island in the Caribbean with two carnivals. Come in February for the French side carnival, join in April for its Dutch side counterpart, but always feel welcome in the Philipsburg's Carnival Village, of which its booths can treat you on an authentic local dish year round!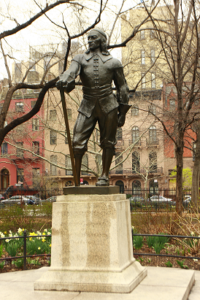 10. NEW YORK AND ST. MAARTEN SHARE A HISTORICAL FIGURE
Pieter (Peter) Stuyvesant(c1612-1674) is mostly known as one of New York's (then: New Amsterdam) first governors, still remembered by Stuyvesant park, the namesake district and consumer brands.
Before he became governor of what was later to become the big apple, he was governor of the Dutch Caribbean at the time the Dutch were fighting their battle of independence against the Spanish. 
After a successful attempt by the Spanish to conquer Sint Maarten's stronghold Fort Amsterdam, Stuyvesant and his troops landed at Little Bay in an effort to take the fort back. Though the attempt was successful, Stuyvesant lost a leg by a cannon ball. This would lead to the characteristic wooden peg leg that you will find on US monuments for Stuyvesant.

Courtesy of Amuseum Naturalis
11. SALT!
On many occasions, you will find St. Maarten / St. Martin addressed as "Soualiga" , the old Arawak word for "Island of Salt" due to its abundant salt ponds.
For over 400 years, Salt was a main source of income for St. Maarten. The natural salt ponds like those in Philipsburg and Grand Case provided the salt needed to keep food and goods fresh on transatlantic journeys. For those willing to wander a bit off the beaten track, one can find the ruins of an old salt mill next to the Great Salt Pond as well as one next to Grand Case Airport.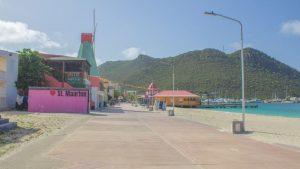 12. CAPITAL ON THE BEACH
Dutch side St Maarten is the only country in the world with a capital, Philipsburg, located on a beach!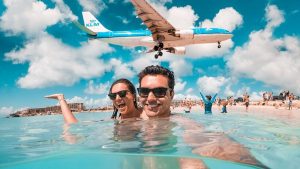 12. AIRPORT BEACH
Without a doubt, St Maarten has the most photographed airport runway in the world! One of St Maarten's most well known landmarks is Maho Beach, as it offers great "selfie" opportunities with a Boeing seemingly landing right on top of you as Princess Juliana Airport's Runway meets the beach here. At PJIAE's website you can see an oversight of departing and arriving planes, some bars on the beach also have arrivals and departures on display. Note that when a large airplane is departing, you are prone to be experiencing a a local sandstorm – so make sure your towel and belongings do not end up in the Caribbean! Also, the power of departing planes makes it very dangerous to stick (close) to the fence – just stay safely on the beach!  Or just as good – enjoy it from one of the bars surrounding the area!