As St. Maarten/St. Martin has a beach to match every square mile, see what beach matches your adventure. From relaxing, water sports and kid friendly options. St. Maarten/St. Martin has it all!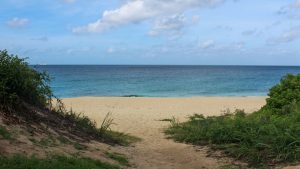 BAIE LONGUE – A beach with pristine white sand. If you want to be away from all the hustle and bustle of activities, going to Baie Longue in the Lowlands will definitely be a getaway to tranquility. 
DAWN BEACH – At the foot of the rolling hills of the Dawn Beach area near the Dawn Beach Club and the Princess Heights Hotel, one finds the namesake beach that directly invites to swim and snorkel. A path leads from the Westin / Dawn Beach entrance towards the beach.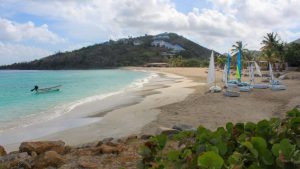 FRIAR'S BAY – Known to be the most kids friendly beach of the island. A perfect Sunday hideaway.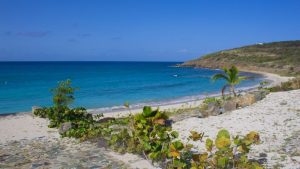 INDIGO BAY BEACH  – At the island's highest positioned roundabout at Harold Jack, one of the four roads leads down to Indigo Bay Beach. With KOKOMO as its sole restaurant and in the middle of steep hills, it is a perfect place to hide from lively Philipsburg right behind the hill.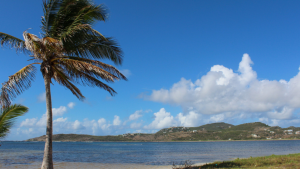 LE GALION –  Le Galion Beach is one of the well known family and kids friendly beaches of the island. Its palms, fields and quiet hamlet provide a great spot for spending a day.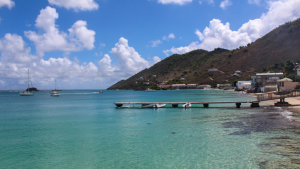 GRAND CASE BEACH – Along the main street of the namesake picturesque fishing village, you find the  winding beach of Grand Case. Many restaurants, famous for their wooden balconies on top of the beach, allow for a culinary end to your day.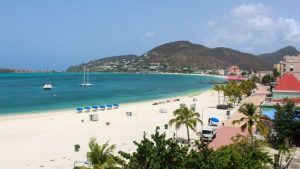 GREAT BAY BEACH –Fun Fact: St. Maarten has the unique position of having a beachside capital. Main town Philipsburg is built along the pristine white sands of Great Bay Beach, stretching for kilometers. Stroll along its majestic boardwalk, enjoy a lunch at Holland House's Ocean Lounge, get a locally crafted beer at the Dutch Blonde Beer Bar or go for shopping in the town that proudly carries the title of best shopping port in the Caribbean. 
GUANA BAY BEACH – A beautiful, long stretching beach on the Atlantic side of the island. While Home to the Natural Pool and, a beautiful sight on St. Barth's. Guana Bay is one of the very few beaches where swimming is not recommended; the current can be very strong. When staying in the Guana Bay beach take a hike towards the magnificent view of Naked Boy Hill or the Natural Pool area!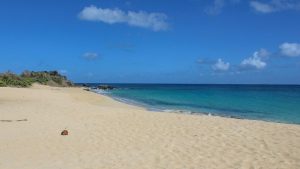 HAPPY BAY – Together with Lover's Beach one of the beaches out of the built environment and nothing but 360* of nature around you.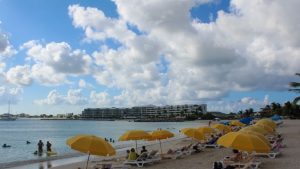 KIM SHA BEACH – The Kim Sha beach area is not just a beautiful beach to enjoy a sunset by day, but a nightlife haven for everyone. Next to the towering presence of some of St Maarten's largest resorts, you find high end restaurants as well as accessible little grill restaurants. A bustling area where both residents and visitors spend their entire evening!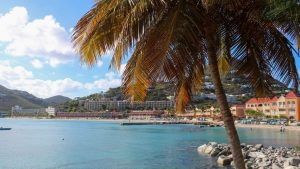 LITTLE BAY BEACH – On the location of the oldest settlement on the island between Fort Willem and Fort Amsterdam, one finds Little Bay Beach. Restaurants and shops at Divi Great Bay Hotel and Belair Beach Hotel guarantee you a beach day with all amenities nearby, including the water-sports of Aquamania; jet skiing, snorkeling and sailing. People preferring boutique hotels will enjoy a splendid stay at L'Espérance Hotel 5 minutes from the beach.
LOVERS BEACH – The most hidden of all beaches on St. Maarten, on the utter north part. It is its isolated geography that provided its romantic name. When at the beach, you see Anguilla only 7 kilometers away. It takes some hiking to arrive, but it is worth it!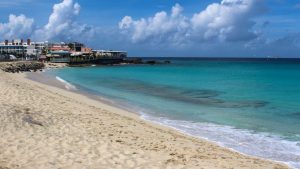 MAHO BEACH  –  Close to the renowned Sonesta Maho Beach Resort Casino & Spa, Maho Beach is one of the most famous beaches in the world, as it finds itself at the end of the runway of Princess Juliana International Airport, laying the scene for many vacation movies that went viral. A surfboard went chalkboard at the Sunset Beach Bar provides you with a schedule what airplanes to expect soon to depart. Propellor planes are not to be feared, but when a boeing is about to depart, keep your belongings together and brace! In the evening, enjoy nearby Maho Village for a cocktail to shake off the sand.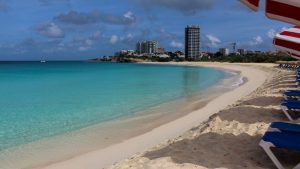 MULLET BAY BEACH – Mullet Bay Beach is one of the locals favorite beaches! The beach has great local cuisine and activities to do in the water. Additionally, the beach has a great atmosphere.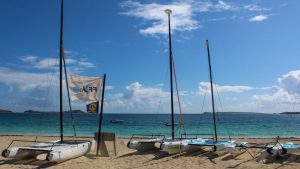 ORIENT BAY – Orient Bay is one of the longest beaches on island and one of the meccas for water-sports on island. Restaurants on the towns central square provide opportunities to make your day a full Orient Bay day. 
OYSTER BAY BEACH – On an isthmus between the natural Oyster Bay and the ocean, one finds Oyster Bay Beach.  A great location to spend a beach day and end up in adjacent Infinity restaurant when the sun has set.
PINEL ISLAND – Go where the locals go (and many more): take a trip to Pinel Island; the closest an Atlantic beach meets a Caribbean beach. Short hiking trails provide fun for the nature lover who are prone to run into turtles, iguanas and much more, while foodies can enjoy the two restaurants on island. Half hourly boats bring you there and back; return tickets can be bought for USD 12 as of 10am. The last boats return at 5 so the preserved area becomes a natural hideaway again; so for a good day of Pinel it is advised to go early.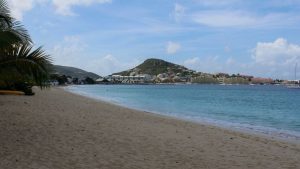 SIMPSON BAY BEACH – One of the longest stretching beaches of the island, along the silent paths of old Simpson Bay Village. Find yourself at peace at one of the many silent corners of the beach, or dive into the always lively Karakter Beach Bar and Boon's area. Behind the  beach, the Simpson Bay Area provides the island's main nightlife district, with restaurants like Frenchy Ludo's and Karakter, bars like Red Piano. Finish your evening at Lotus. For people wanting to stay close to Simpson Bay Beach, one can find many hotels like Azure, Atrium, Simpson Bay Resort, Royal Palm, Flamingo Beach Resort, Carl's Unique Inn
TINTAMARRE – Looking for a unique environmental adventure, one can go to Tintamarre beach. Tintamarre is a nature reserve where you can experience the nature in its purest form.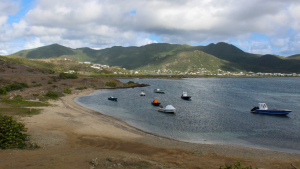 BAIE DE L'EMBOUCHURE – This natural reserve dotted with small beaches is well known as a kite surfing spot and to wade through its shallow waters towards little islands. Climb the panoramic view tower and enjoy the view of neighboring islands to the east and mangrove forests to the west!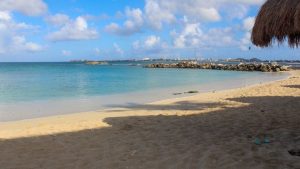 PELICAN KEY – For those wanting to escape the liveliness of the Kim Sha and Simpson Bay area, your solution is on a crawling distance. Quiet Pelican cay beach is nestled in between of La Vista, Flamingo Beach and Simpson Bay Resort and provides for great sunsets and views of sailing boats anchoring and entering the Simpson Bay lagoon.
PLUM BAY – One of the three major beaches of the Lowlands peninsula together with Baie Rouge / Red Bay and Baie Longue / Long Bay, Plum Bay or Baie aux Prunes is the most quiet and serves for a great beach day in solitude.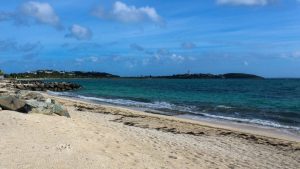 NETTLE BAY – This narrow but stretched waterfront allows for a great view on Anguilla and Marigot. Along the coast, one finds various restaurants popular amongst residents of both sides of the island.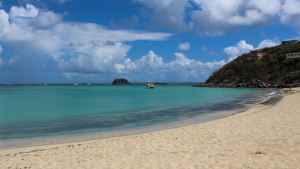 PETITE PLAGE – Just as its name would suspect Petite Plage is a small, pristine beach. It is right in front of Creole Rock, one of the supreme snorkeling spots on island. It can be reached by totally going to the end of Grand Case main street.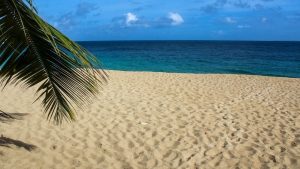 BAIE ROUGE – Baie Rouge is one of the longest beaches of St Maarten, situated in the Lowlands area. A great place for snorkeling – especially close to the rocks on the north end of the beach. For those snorkelers and swimmers who wander in this direction, might discover another, secluded beach right behind these rocks!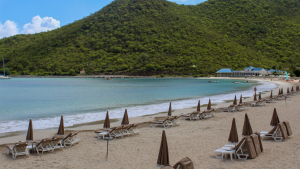 ANSE MARCEL – Anse Marcel is the outmost northern cove of the island. After crossing the hills from the direction of Orient Bay and Grand Case, a lush green bay with light blue waters opens up, only kilometers removed from Anguilla. Next to a great place to spend a day on the beach, also a departure point for various hikes.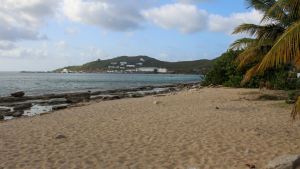 GALISBAY – Along the north side of Marigot's petite lighthouse, Galisbay beach stretches as a boulevard in the direction of Grand Case. A great location for an evening walk before having a bite in the old town.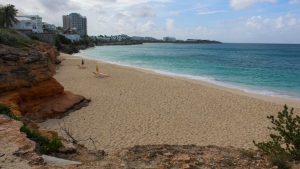 CUPECOY – Along the coast of Cupecoy a small but peaceful beach lingers under its unique pink cliffs. A popular location for those people who seek peace from the busier Simpson Bay and Philipsburg areas.
EXPLORER ISLAND – If you are by sailing boat, jetski or other vessel in the lagoon, bring your own picknick to Explorer Island to spend some time! In the Simpson Bay Lagoon two islands can be found on the border between the Dutch and French Side of the island. Explorer island holds a secret little beach for a true day on an uninhabited island. Be it, in this case, with a panoramic view on bustling Maho and Cupecoy, Marigot and the Lowlands areas!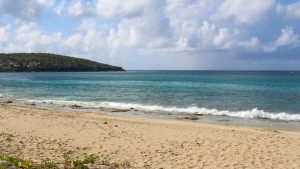 CAY BAY – Cay bay beach is a silent, quiet beach at the back of St Maarten's energy plant, and provides access to Seaside Nature Park. An ideal location for kids to be around animals, or take a horse back ride! A bar provides drinks and snacks and shelter from the sea.