(Header photo courtesy of Guavaberry)
Welcome to St Maarten / St Martin!
St Maarten / St Martin is one of the most well known tourist destinations of the Caribbean. Over the past years alone, it was acknowledged by Tripadvisor as one of the top 20 destinations worldwide and one of the leading destinations in the Caribbean, and Dutch side's capital Philipsburg as best place to shop in the region both by CruiseCritic and Porthole Magazine.
Research has shown that what makes us stick out is our uniquely binational and multicultural character, our wide offer of culinary tastes deriving from that, our awarded standards of hospitality, our well connected location amidst a larger archipelago, our many events, and last but not least our large offer of things to do on land and on water. Last but not least of course, our 37 pristine beaches, from the cosmopolitan and lively to one entirely for yourself.
One Island, Two Nations: St Maarten (Netherlands) & St Martin (France)
As per our binational character, we build on a rare 350 year history of open borders. Except for its border Concordia monument you will not notice crossing our borders at all, but just experience the great complementarity of this unique combination as our two sides have their own special features!
French side "St Martin" is part of France whereas Dutch side "St Maarten" is an autonomous part of the Kingdom of the Netherlands. Whereas Euros and Dutch Antillean Guilders are respective official currencies, the dollar is by far the most common currency
For our visitors, the main difference will be felt by the more widely available bustling nightlife, casinos, shopping and activities available on Dutch side St Maarten, whereas slightly larger French side St Martin offers a larger array of nature areas to explore.
Most tourists come in via the Dutch side , either on Princess Juliana International Airport or Cruise in Dutch side St Maarten's capital Philipsburg. You can visit any location on St Maarten / St Martin well within an hour – so any location to dine, shop, do an activity or visit an event is well within reach wherever you stay on island!
How to get to St Maarten / St Martin
St. Maarten Princess Juliana International Airport ( flight code SXM ) is an important hub for the Northeastern Caribbean and has daily connections with many American airports, Caribbean Airports, Panama City (PTY) , Amsterdam Schiphol ( AMS ) and Paris Charles de Gaulle ( CDG ). In addition, smaller Grand Case L' Esperance Airport (flight code SFG) serves destinations within the French Caribbean – Martinique, Guadeloupe and St. Barths.
Ferries leave from St. Maarten / St. Martin to Saba, Sint Eustatius, Anguilla, St. Barths and St. Kitts & Nevis.
St. Maarten is also one of the most awarded, popular and largest Cruise destinations of the Caribbean, and the world. Ships dock in walking distance of St. Maarten capital Philipsburg. The size of the island allows cruise passengers to do any excursion on land or activity on water on offer, or to choose and reach a restaurant of choice well in time.
A third way how many visitors arrive on St. Maarten is via sailing boats and yachts. St. Maarten is a key yachting center within the Caribbean region, a fact celebrated with its St Maarten Heineken Regatta in March and Annual Multihull Regatta in February.
The most important yachting area is the Simpson Bay Lagoon. Additional marinas can be found in Philipsburg, Simpson Bay (outside the Simpson Bay Lagoon Bridge), Marigot and Anse Marcel. Popular locations to anchor with sailing ships at sea are Grand Case, Simpson Bay and Tintamarre Island.
Fun Facts St Maarten / St Martin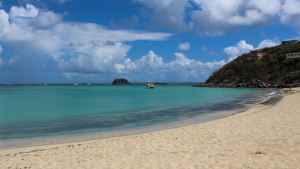 1. Most Beaches Per Square Mile
St. Maarten holds the world record of beaches related to its compact surface. There are beaches for anyone's taste, from the urban to the quiet , from the world famed ones to the awarded , for the watersport lover or those looking for serenity. And those for dreamers of uninhabited islands there are opportunities as well; both with and without a bar.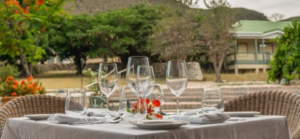 2. Most Restaurants Per Square Mile
St. Maarten / St. Martin is known as the culinary capital of the Caribbean. Little wonder as 100 cultures and two nations brought their herbs and recipes together.  See our dining department for what cuisine suits your preferences today, and let our local cooks and bartenders inspire you before and after your holiday to stretch your holiday feel! Make sure you visit St Maarten in November, when 50 restaurants take place in St. Maarten Flavors Culinary Month.

3. Most Nationalities Per Capita
It is widely known that St. Maarten mixes Caribbean with French and Dutch cultures. However, an additional 100 Caribbean, American, European, Asian, Australian and (yes) Oceanian nationalities add to the unique population – and  flavors – of St Maarten. Read in our history section how this unique melting pot came about.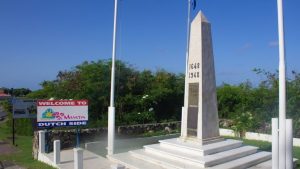 4. Oldest Officially Open Border in the World
Since the treaty of Concordia in 1648, the Dutch and French side of the island have been open. Long before the European Union came into being, with a few exceptions peaceful coexistence between European nations existed for hundreds of yours on this paradisiacal island.  When crossing the French and Dutch border, make sure to visit the Monument of Concordia.  Every year on November 11th (International St. Martin of Tours day), dignitaries from both sides come to this monument built in 1948 to underline the coherence of the two nations on one island.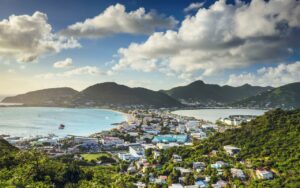 5. Smallest Landmass Shared by Two Nations
Its unique binational island setting only has a few equivalents in the world, like Hispaniola (Haiti & Dominican Republic) and Cyprus. However, none as compact, let alone with so many cultures in the world!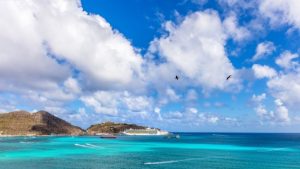 6. No #1 Caribbean Cruise Port – Cruise Critic Award
With the aforementioned uniqueness of  pristine beaches, cultures, cuisines, great hospitality and history, you will be less surprised that St. Maarten won the prestigious Cruise Critic many times over the past decade.  In addition, St Maartens main cruise port Philipsburg has also received many awards for its reputation as a Caribbean shopping haven.
In passenger volumes, St Maarten ranks top #3 in the Caribbean and top #10 in the world. For some cruise liners it forms a hub as a home porting destination. For both cruise passengers and home porters see our one day on St. Maarten itineraries how to make the best out of your stay!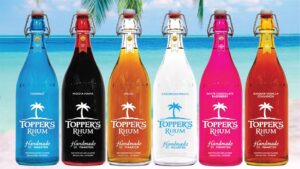 7. A True Pirate Island
Like any other Caribbean island, St. Maarten / St. Martin had its share of piracy and rum production. It's most famed local rums Guavaberry and Toppers have an amazing story to tell and form an attraction on itself to visit. Guavaberry even managed to become the official Pirates of the Caribbean Rhum at Disneyland Japan – cheers to that! Nowadays, you can experience the true story of pirates at the Rusty Parrot Pirate Experience in Philipsburg.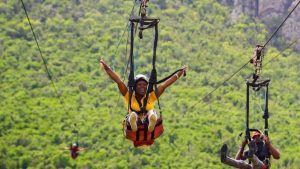 8. Steepest Zipline in the World
Since 2017, St. Maarten boasts a unique attraction for thrill seekers – or those simply looking for an amazing view of five Caribbean islands. Rainforest Adventure Park boasts the steepest zipline in the world, the Flying Dutchman. For those not afraid of heights, a never to be forgotten – especially not when the visit ends to culinary hotspot Emilio's on the property. For those people just wanting to see the amazing views from Sentry Hill you can take the Soualiga Sky Explorer chairlift.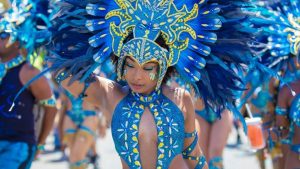 9. Only Island With Two Carnivals
The good thing of being binational is not just having double the cuisine, but also double the events! St. Maarten / St. Martin is the only island in the Caribbean with two carnivals. Come in February for the French side carnival, join in April for its Dutch side counterpart, but always feel welcome in the Philipsburg's Carnival Village, of which its booths can treat you on an authentic local dish year round!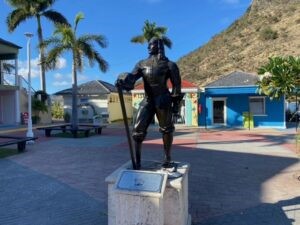 10. New York and St. Maarten Share a Historical Figure
Pieter (Peter) Stuyvesant (c1612-1674) is mostly known as one of New York's (then: New Amsterdam) first governors, still remembered by Stuyvesant park, the namesake district and consumer brands.
Before he became governor of what was later to become the big apple, he was governor of the Dutch Caribbean at the time the Dutch were fighting their battle of independence against the Spanish. 
After a successful attempt by the Spanish to conquer Sint Maarten's stronghold Fort Amsterdam, Stuyvesant and his troops landed at Little Bay in an effort to take the fort back. Though the attempt was successful, Stuyvesant lost a leg by a cannon ball. This would lead to the characteristic wooden peg leg that you will find on US monuments for Stuyvesant.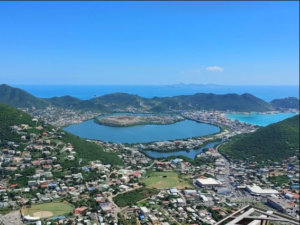 11. Salt!
On many occasions, you will find St. Maarten / St. Martin addressed as "Soualiga" , the old Arawak word for "Island of Salt" due to its abundant salt ponds.
For over 400 years, Salt was a main source of income for St. Maarten. The natural salt ponds like those in Philipsburg and Grand Case provided the salt needed to keep food and goods fresh on transatlantic journeys. For those willing to wander a bit off the beaten track, one can find the ruins of an old salt mill next to the Great Salt Pond as well as one next to Grand Case Airport. One of our highly regarded restaurants took the name SALT as reference to this once dominant island commodity.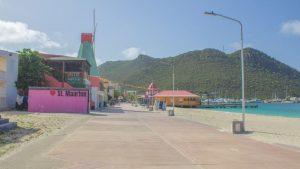 12. Capital On the Beach
Dutch side St Maarten is the only country in the world with a capital, Philipsburg, located on a beach! When shopping in its famous Front Street, do not forget to take a strawl to Philipsburgs famed Great Bay Beach!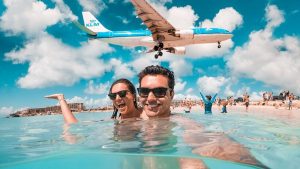 13. Airport Beach
Without a doubt, St Maarten has the most photographed airport runway in the world! One of St Maarten's most well known landmarks is Maho Beach, as it offers great "selfie" opportunities with a Boeing seemingly landing right on top of you as Princess Juliana Airport's Runway meets the beach here. At PJIAE's website you can see an oversight of departing and arriving planes, some bars on the beach also have arrivals and departures on display. Note that when a large airplane is departing, you are prone to be experiencing a a local sandstorm – so make sure your towel and belongings do not end up in the Caribbean! Also, the power of departing planes makes it very dangerous to stick (close) to the fence – just stay safely on the beach!  Or just as good – enjoy it from one of the bars surrounding the area! For how to get to this beach, please see our Maho Beach segment.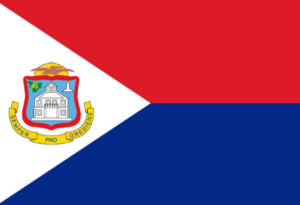 14. St Maarten Flag Was Created by a Local School Girl
As the country was to gain autonomy status in 2010, a Dutch side St Maarten contest was held to create a new national flag. Within the emblem of the flag, one finds
– the national bird, the brown pelican
– the national flower, the sage flower,
– the monument symbolizing the binationality of the island, Concordia Monument ,
– and most central, the most famous building of St Maarten / St Martin the courthouse of Philipsburg
When it pertains to a French side Saint Martin flag, use of the French national flag is most common. A unified St Maarten / St Martin flag also can be seen often. This flag is predominantly yellow and green and also carries the Monument of Concordia in black in its banner. 
Back to Main Page of Visit St Maarten / St Martin