A Touch of Dutch & A Feel of French
Whereas St Maarten / Saint Martin is a truly Caribbean island and for that atmosphere we advise to go where the locals go, get a St Maarten distilled rum and have a good Johnny Cake, on various places there is also European Dutch accents to be spotted on the Dutch side and a European French ambiance to the French side.
For a Dutch feeling but with better weather, try: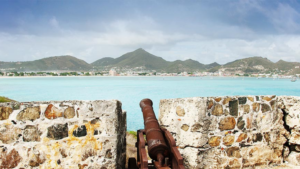 1 . Fort Amsterdam
It is not for nothing this 17th century holds the name of the Dutch capital. Fort Amsterdam was the key stronghold for the colonial Dutch, protecting the salt trade and making Peter Stuyvesant lose his leg by the Spanish.

2. AMAsterdam Cafe
AMAsterdam cafe: A great location for a Frontstreet selfie with a true Amsterdam streetcar, or even to pose in an Amsterdam Red light district window. Also the sole location where St Maarten souvenirs are sold in typical Dutch Delft Blue!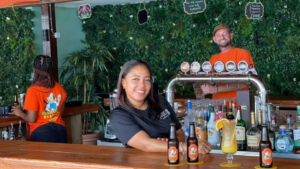 3. Dutch Blonde Beer Bar
The home of the Dutch lager inspired Dutch Blonde Beer, and you will find plenty of other orange references to the little European country and its grassy polders on this Boardwalk beach bar – serving Dutch Pancakes!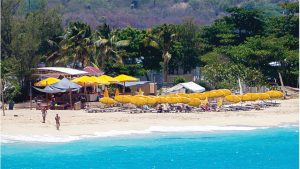 4. Karakter
The name of this hidden gem of a Simpson Bay beach bar, Dutch for "Character", reveals both the background of its owners and of that of its many European visitors. No wonder, Karakter is the best place to be at January 1st, when it is home to the typical Dutch "Nieuwjaarsduik" or new year's dive as also done in the Netherlands. A typical orange cap is provided complimentary, as is an ice cube bath for the total northern-European feeling of this time of year.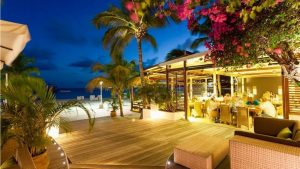 5. Holland House
Holland House 's name also predicts a background, as well as its Ocean Lounge's offer of typical Dutch "bitterballen" for those who get hungry in Frontstreet.
6. Philipsburg Front Street
Visit the Philipsburg "stegen", still using the Dutch name for alley (steeg). They often still have historical buildings from a different timeframe. Within the Philipsburg stegen / alleys, you find a large array of wall paintings of local artists, often depicting historical events.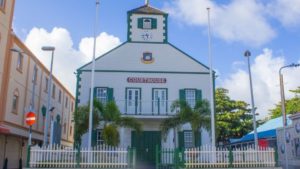 For a European French accent to your vacation, some suggestions: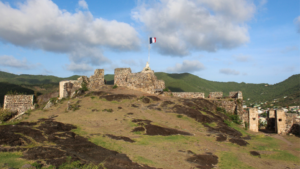 1.Fort Louis
Fort Louis overlooking Marigot is a very clear remnant of French colonial times, still carrying the most popular name of French kings.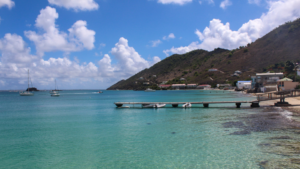 2. Grand Case
Grand Case restaurants offer a large choice of French inspired cuisine in many variations. Also a large offer of Caribbean and international cuisines.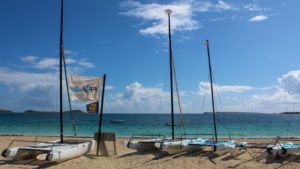 3. Orient Beach
Orient Beach and its many beach bars give a feeling of the French Riviera. Add to this its status of semi-clothing optional, and you might lose track whether you are in the Caribbean or in St Tropez!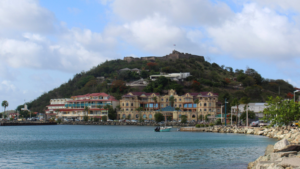 4. Marigot
French side capital Marigot offers great variety of French boutiques and fashion stores for every taste and style. Wander around the streets of Marigot and hop in and out of shops along the way!