There is something for everyone to see and do on this island that's just 37 square miles. Research has shown that Sint Maarten / Saint Martin sticks out in things to do, both for those seeking tranquility as well as thrills. 
St Maarten / St Martin Excursions On Water
First of all, there is the famous blue waters of St Maarten / St Martin. Especially Dutch side St Maarten offers a wealth of nautical adventures. From sailing to scuba diving, to the many other activities on the water to simple snorkeling, St Maarten / St Martins highly diverse landscape offers something for everything. 
Last but not definitely not least, our close to 40 beaches are one of our key attractions for those who like to spend their time at sea. St Maarten / St Martin offers a vast variety; from the lively to the silent, from those with cosmopolitan bars providing entertainment until deep at night to those where clothing is optional.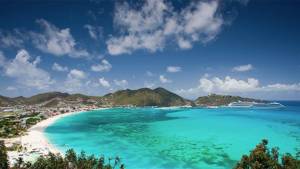 Trips On Land: Shopping And Monuments
If you're more of a landlubber, don't despair. On land, a variety of tours is available as well, from serene hikes through nature to the world's steepest zipline. Sports can be done from golfing to horse riding. Bike tours are available on many locations on the Dutch side. After all your activity, take a moment of relaxation in our health and wellness spas.
When in the shopping capital of the Caribbean, do not forget to take an afternoon off for shopping. Especially Philipsburg won many prizes for shopping haven of the Caribbean; but shopping options galore in the Simpson Bay and Marigot areas also!
In the middle of a multinational archipelago, there is plenty islands within sight to explore. Spend a day trip to neighboring islands like Statia, Saba and St. Barths, or simply unwind on a relaxing, romantic sunset cruise. Various sailing and motorized boat excursions offer stops to islands nearby; from the lively to the uninhabited and tranquil. 
History buffs will want to visit Fort Amsterdam or Fort Louis, peruse the artifacts at the Fruits de Mer or St. Maarten Heritage Museum. 

Restaurants And Nightlife
When the sun sets, St Maarten / St Martin just got started. We did not get our nickname Culinary Capital of the Caribbean for nothing. Over a 100 cultures brought their cuisine to choose from; a world record per square mile. After a great dinner, a vibrant nightlife awaits you. 
For full enjoyment of what St Maarten has to offer, there is plenty to do for those who want to explore the routes off the beaten track. Mix it with culture, enjoying the arts and visiting monuments for a true submersion in St Maarten Culture! Keep track of our blog for what is new and upcoming. 
When in doubt with our famous offer of activities, let yourself be advised by those who know their island best; the locals!
Only one day to spend on St Maarten by cruise or in transit? Realize that all of the above is well within reach of your day at Sint Maarten / Saint Martin. We have thought about how to spend your day!

Explore our Tours on land, Activates on the water, Sailing, Scuba Diving, Nature & Hiking , Monuments, and Events Calendar!