SINT MAARTEN YACHT CLUB: HOPE ROSS SERIES CONCLUDED WITH 27 TEAMS COMPETING IN SHIFTY WIND CONDITIONS!
Sint Maarten Yacht Club Organized Hope Ross Series on St Maarten / St Martin and Welcomed 27 Teams 
The Grant Thornton Dinghy Season Championship consists out of 4 race series and 1 standalone event, the National Championships, which is to take place on June 4th and will conclude the Season Championships.
The Hope-Ross Series was the final 2-day Series in the Championships and saw again a fantastic turnout with 27 teams competing in five classes this past Saturday, with participants from St. Barts, Friar's Bay and the Sint Maarten Yacht Club.
Weather Conditions in Simpson Bay Lagoon
The racing took place in the Simpson Bay Lagoon to the South-East of the causeway Bridge. Race Committee started 3 races for the teams. The conditions were shifty, not an uncommon feature in the Lagoon, which made it all about tactics and reading the wind properly.
Information About Sailors
10 sailors competed in the Laser Class, of which 7 competed on the two days that made up the Hope-Ross Series. The top 3 didn't change from Day 1, even though Frits Bus and Lolie Oswald brought excellent competition this past Saturday claiming some of the top positions.
Due to them only racing the second day of the series, the overall winners of the Series were Emma Lennox in third in a Laser 4.7 and Jules Fortunati and Justin Pieterse again ended in a tie on first and second place. Whereas Pieterse took the win on day 1 of the Series, Fortunati took the overall win in the Series.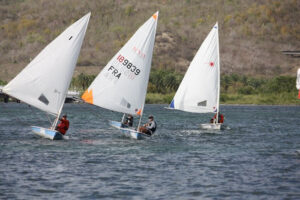 "The Laser Class has become extremely competitive this season and grown with the attendance of St Barts Yacht Club and Club de Voile de Friar's Bay. The racing was very close and a pleasure to watch." Stated Sam Peeks, Racing Coach at the Sint Maarten Yacht Club.
The Optimist Class saw 10 sailors compete, with 8 competitors who sailed both race days. The participants from St. Barts and Club de Voile de Friar's Bay dominated the fleet, with Corentine Corroy in third place and Thomas Magras in second with only a two-point difference against Sarah Michaux, who took 3 straight bullets on Saturday's race claiming first place.
"On day one of the Hope Ross Series, 7-year-old Axel van den Eynde from Sint Maarten, competed in his first race and it was good to see he continued this weekend. He also got his friend Rylan Benjamin excited about racing, for whom it was his first-time racing in the Dinghy Series and is showing great potential.
He only started sailing lessons in September and for him to already participate in racing is fantastic progress." Continued Peeks.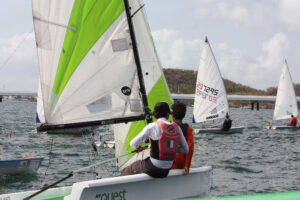 This weekend only 2 teams competed in the RS Quest fleet, which were both teams from St. Barts. Antonin and Luca and their crew from the St. Barths Yacht Club enjoyed some close racing. Sam Peeks, who wasn't able to compete on the second day, ended in third place. Luca and crew in second place and Antonin took a convincing first place with 4 firsts over 7 races.
In the RS Zest class 4 teams competed, from which 2 teams sailed on both days. Clarice Darling, who also raced on the first day, had to race her brother Henry Darling, who showed no mercy and took three bullets. Her friend Filippa Vriezen competed again and raced strong, trading places with Clarice Darling every race.
Henry came in third place, Clarice second and Filippa a first place overall in the RS Zest Class for the Series.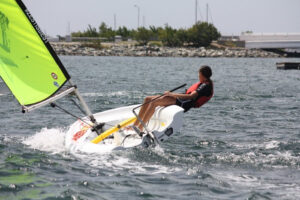 Robbie Ferron and his crew participated in a Sunfast 20 and won this class.
The National Championships, the final race in the Grant Thornton Dinghy Season Championships is taking place on June 4th. This will also be the moment when the overall winners of the Dinghy Championships will be announced.
Results, photos and much more can be found at www.smyc.com
To read the article about the Hope Ross Series that took place in Simpson Bay Lagoon on St Maarten / St Martin, click here.
To find more information about events on St Maarten / St Martin, go to the the calendar.
Read other St Maarten / St Martin events and sailing blog articles.
Back to Main Page of Visit St Maarten / St Martin