(Header photo courtesy of Christine Garner)
Welcome To St Maarten / St Martin – An Awarded Caribbean Tourism Destination
St. Maarten / St. Martin takes the trouble out of traveling. St Maarten has been one of the most well known tourism destinations of the Caribbean, became a regional travel hub and has a long standing tradition of hospitality.
It was awarded the 19th destination in the world based on TripAdvisor reviews in 2017 and many awards have lauded its status as cruise Port of Call; in 2020 it was voted best shopping port in the Caribbean. 
These travel awards testify to the high standards in tourism applied by its industry. You'll find a comprehensive infrastructure designed to meet the needs of every traveler – coming by cruise, yacht or for one of our resorts or boutique hotels. 
Travel To St Maarten / St Martin
To start with, it's easy to reach the island. Princess Juliana International Airport welcomes daily flights from Europe, North America and the region. Getting around the island is easy. There's a full range of transportation options, including buses, taxis, rental cars and ferries.
Accommodations are plentiful and abound with amenities. Whether you hang your hat at a cozy boutique hotel, a luxurious oceanfront resort or on an all-inclusive retreat you're sure to feel at home on this dual-nation island paradise. See our areas page to explore best things to do in the vicinity of your hotel, and what hotels are available in your area. 
When you're ready to get out and about you can choose from a wide range of activities.  All St Maarten / St Martin resorts, hotels, villas, real estates and timeshares are either on or a stone throw away from one of the island's beautiful beaches. Tour operators offer exciting ways to experience the island land and at sea, and it's easy to arrange a day trip to neighboring islands.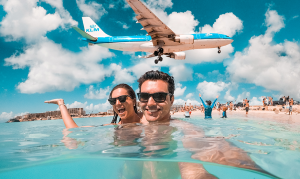 Shopping and Currency
Shopping is another favorite tourist activity and scoring great deals couldn't be simpler. For many decades, the island has been a duty-free port, offering deep discounts on top-of-the-line international brands in electronics, jewelry, fashion and more. You may, in fact, want to bring along an extra suitcase to cart your treasures home.
The best buys are in Philipsburg, the capital of Dutch Sint Maarten. Just four streets deep and one mile long, Philipsburg offers duty-free shop after shop along the Boardwalk that fronts the beach. Banks and exchanges will provide you with the two official currencies here: the Euro on the French side and the Florin (Netherlands Antillean guilder or florin) on the Dutch side; or you can pay in U.S. dollars, which are accepted everywhere, along with most major credit cards. Shops can also be found in the Simpson Bay and Marigot areas.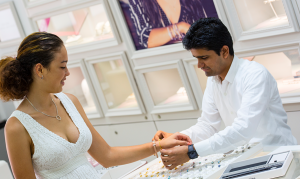 St Maarten / St Martin Tourism Experiences
If your tummy starts to growl, head over to one of the island's world-class eateries. Then after dinner, enjoy the vibrant nightlife at clubs, lounges and high-rolling casinos found on the Dutch side. St Maarten / St Martin is considered one of the safest destinations in the Caribbean region.
With so many ways to spend your days, you're bound to look forward to some blissful relaxation. You'll find it at one of the island's top-rated spas. What better way to wind down than with a massage or island-inspired treatment?
Explore our Resorts, Boutique Hotels , Villas, Timeshare and Yachts!
For more travel and tourism tips, see our dedicated travel information site.
Back to Main Page of Visit St Maarten / St Martin